Residential Life
Jump to: Out of Class | Schedule | Housing | Dining | Free Time | Asynchronous Work | Evenings & Weekends | Residential Staff | COVID-19 Policies | FAQ
Out of Class
While Vanderbilt Summer Academy is academically focused, it isn't only about the academic experience. We believe that life outside the classroom is just as important as what goes on inside. VSA staff work hard to create programming that enlightens and excites VSA students when they are not in class. Each weekday evening, students will be able to participate in a wide range of activities—from Ultimate Frisbee and field days to tie-dyeing and talent shows, there is never a dull moment. In addition, time is built into the schedule to allow plenty of opportunities for you to unwind and socialize with new friends. Not only will students have the chance to live on a college campus, those in 2-week sessions will get to sample some of the many cultural and entertainment offerings of Nashville through group outings and field trips.
The proctors and instructors were extremely supportive and fun. I also made some great new friends and made some awesome memories with them. I am extremely glad that I chose VSA.

Typical Schedule
Below are typical weekday schedules for VSA. Please keep in mind, however, that "typical" days are rare at VSA, and students should expect schedule modifications, as necessary.
7th/8th Grade; 9th/10th Grade

Typical Weekday Schedule

8:00 am – 8:35 am
Breakfast
8:45 am – 11:45 am
Class
11:45 am – 12:45 pm
Lunch
12:45 pm – 3:45 pm
Class
4:00 pm – 5:00 pm
Free Time
5:00 pm – 6:00 pm
Asynchronous Work
6:00 pm – 6:50 pm
Dinner
7:00 pm – 9:00 pm
Recreational Activities
9:00 pm – 10:00 pm
Proctor Group Meeting/Free Time on Hall
10:00 pm
Room Curfew*
10:30 pm
Lights Out/All Quiet*
11th/12th Grade

Typical Weekday Schedule

8:00 am – 8:35 am
Breakfast
8:45 am – 11:45 am
Class
11:45 am – 12:45 pm
Lunch
12:45pm – 3:45 pm
Class
4:00 pm – 5:00 pm
Free Time
5:00 pm – 6:00 pm
Asynchronous Work
6:00 pm – 6:50 pm
Dinner
7:00 pm – 9:00 pm
Recreational/Social activities
9:00 pm – 10:30 pm
Proctor Meeting and Free Time on Hall
10:30 pm
Room Curfew*
11:00 pm
Lights Out/All Quiet*
* Room Curfew and Lights Out/All Quiet times may be extended on weekends and occasionally adjusted during the week to accommodate special activities or events.

Housing: The Ingram Commons at Vanderbilt
Vanderbilt leads the country in its commitment to create the best possible undergraduate learning environment. At the heart of this objective lies the mission of The Ingram Commons—a unique program designed to make the first-year college experience challenging, fun, and fulfilling. This collaborative community nurtures and develops proactive, intentional learners and invites an invigorating exchange of ideas. Learn more at commons.vanderbilt.edu.
At Vanderbilt Summer Academy, students don't have to wait until they are a college student to enjoy The Ingram Commons experience. The Ingram Commons will be "home away from home" at VSA. This array of first-year residence halls combines the best of modern conveniences within classically elegant architecture. The Commons residence halls are centrally air-conditioned and include access to laundry facilities. Dorms and/or floors are separated by gender, and communal bathrooms are available on each hall. Large common areas for games and social interaction are also prime features of each residence hall and provide students with shared space to take part in their living and learning community. A temporary home on The Ingram Commons will provide a sneak peek into Vanderbilt's residential experience for first-year students.
I loved having a mix of class and activities because it allowed me to meet and become friends with so many different people from different backgrounds that share different interests.
Dining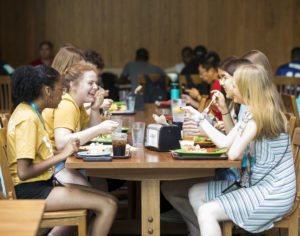 Vanderbilt Summer Academy students eat most of their meals in campus dining halls, which offer a wide variety of healthy and savory selections including vegetarian and vegan options. Students with food allergies and/or dietary restrictions will find VU dining to be an accommodating partner. We understand that dietary restrictions can be serious in nature. Don't hesitate to call our office to discuss meal accommodations. All meals served in the dining halls or at VSA–wide events are covered in the tuition. However, students may choose to bring some money from home to purchase coffee drinks and snacks from on-campus markets.

Free Time
After a structured day, VSA students have about an hour of free time after class ends. This is a great chance to meet up with friends, get in a workout, or enjoy some quiet time on the patio. New to VSA? Hoping to meet new friends? Don't worry! Our residential staff are present during free time and host low-key, drop-in activities for anyone looking to join a casual group for craft time or a board game. Students will be free to step in and out of activities that appeal to their interests.
Asynchronous Work
Each afternoon after free time (5:00 PM to 5:45 PM), VSA students will return to their residential halls to complete 30-45 minutes of a carefully curated asynchronous assignment from their course instructor. Asynchronous assignments are designed to reinforce, synthesize, and support the rigorous VSA classroom experience so that the instructor can maximize students' in-class learning time. Examples of asynchronous assignments include, but are not limited to, scholarly readings, reflection posts related to course material, problem set completion, or final project preparation.
Either a computer or iPad will be needed for completion of assignments during asynchronous times because students will need to log into Brightspace, Vanderbilt's learning management platform, to access materials.
Please note, students will also utilize Brightspace to access important residential life information such as activity sign-up forms and the VSA student handbook. We also have restrictions on the use of these devices, which we will ask students to follow. The policy for use of electronics will be outlined in the student handbook. VSA is not responsible for lost or stolen items. VSA has a limited number of loaner laptops. Please contact our office (vsa.pty@vanderbilt.edu) by April 1, 2023 if you will be unable to bring an iPad, tablet, or laptop to campus.
Evening and Weekend Options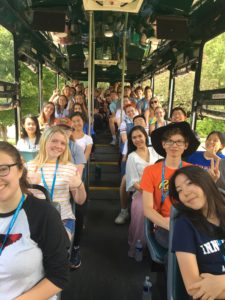 Each of our VSA programs has a slightly different blend of evening activities depending on the age of the students and length of stay. Programs for 7th-10th grade students feature a more structured blend of post-dinner options, while programs for 11th and 12 grade students offer more flexibility and independence. Regardless of session or grade level, VSA strives to offer a variety of low-, medium-, and high-energy activities so that each student may select the activity that best matches their interest and curiosity. For our two-week programs, students have the additional benefit of a VSA weekend. During this time, other on-campus events and off-campus outings are arranged—from theme dances to VSA carnivals, scavenger hunts, and movies, weekends on campus are engaging and fun. Off campus events also add to the weekend fun as experiences are designed with a particular eye toward exploring the rich diversity and culture of Music City. All outings and activities are included in the tuition cost. Students may wish to bring spending money to purchase souvenirs/ snacks.
Winding Down Each Day
After a full day of class and events, students have time to wind down each night with a stretch of free time. This time is designed to allow students the chance to catch up with floormates, have one last conversation on the floor's common area, and begin preparing for bedtime. Students also check in with their proctor group during this time for proctor group bonding, daily reflection, and important reminders for the days ahead.
Safety, Health, and Student Supervision
Van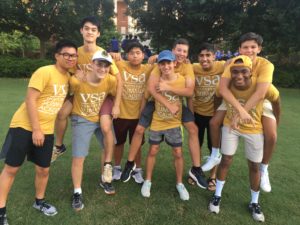 derbilt Summer Academy recognizes the importance of proper health and safety for everyone in our program. Our trained staff live in the residence hall, supervise activities, and maintain the overall well-being and safety of students during the program. Students spend the majority of their evenings and weekends participating in supervised events and activities. Discretionary time will vary by session. The VU Police Department partners with VSA in securing the residence hall and campus. The VSA residence halls house only program participants and authorized Vanderbilt staff. All students are provided with electronic access cards to their residence hall.
Because Vanderbilt Summer Academy is an opportunity to experience communal living, some of the responsibility for health and safety rests with students. Students will be informed of the program guidelines for behavior, participation, and campus boundaries in the Vanderbilt Summer Academy Student Handbook, which will be provided upon admission. All rules are designed to foster a healthy, respectful environment where everyone can find success and enjoyment. In the event that a student needs medical attention while at VSA, Vanderbilt University Medical Center, which includes the Monroe Carell Jr. Children's Hospital at Vanderbilt, is located next door to the campus. Specific policies about personal medications, health history, student health concerns while on campus, and insurance requirements are outlined in the required welcome paperwork and VSA student handbook.
My son left your program with a calm confidence and wealth of knowledge that supports his inquisitive mind. He felt incredibly supported, enriched, and enlightened both by your staff and the community of new friendships.
Residential Staff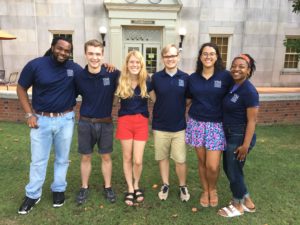 Our leadership team includes full-time PTY staff who move into the dorm and work closely with carefully selected and trained residential proctors. Proctors foster community within the residence hall and guide students through evening and weekend activities. Each VSA proctor lives on the same hall as their assigned same-gender proctor group of 8-12 students. Students meet each evening with their proctor groups and enjoy occasional group outings together. VSA residential staff is large in number, and positions range from program assistants to the head of student support, head of operations, and residential program assistants. Our staff (some of whom were VSA students years ago) is eager to welcome each session's students to campus and provide a warm and encouraging environment for new and returning students.

COVID-19 Policies
Click here for more information about VSA 2022 COVID-19 policies.
FAQ
Click here to view the VSA Frequently Asked Questions page.