Vanderbilt Gifted Education Institute
In the interest of student and staff wellbeing, Programs for Talented Youth will not be offering on-campus programs during the Fall 2020 term. We are excited to announce that we will continue to provide learning opportunities for educators in a virtual format.
Continue to visit this page and join our mailing list for the most up-to-date information involving our fall virtual experiences and dates. If you are interested in academic programs for students this fall and spring, check out our online opportunities this fall.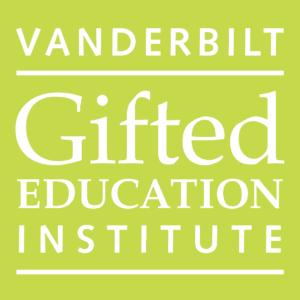 Vanderbilt Programs for Talented Youth is pleased to offer professional development opportunities designed to help educators better serve and support high-ability students. Known collectively as the Vanderbilt Gifted Education Institute, we endeavor to develop those who work with them throughout the academic year and summer.
Jump to: Spring 2020 Online | Summer 2020 Online | Fall 2020 and Spring 2021 | Other Resources
Spring 2020 Live Online PD Opportunities
Thinking Like An Expert: A Live Online PD Series 
How do you help your academically advanced students think like experts in English Language Arts? Learn models vetted by content experts and review examples of field tested units designed through Vanderbilt Programs for Talented Youth.
Note: These are live stream, one-time only training sessions. Since these are live training sessions, participants must be present during the date/time of the session they register for. No recordings of the session are permitted by participants. The sessions will also not be recorded by the facilitators.
Join us for one or more 2-hour sessions that include an overview of the ways to help your elementary and middle school students analyze texts and answer complex questions.
You may sign up for one session or for all of them! Registration fees for each session cover the cost of a complimentary electronic copy of a PTY curriculum unit. We hope to see you online this spring!
Summer Professional Development Opportunities
Best Practices in Identifying and Teaching the Gifted Learner: Tennessee Employment Standard 2020
Join us for this exciting educational experience that explores ways to identify gifted learners and differentiate instruction for them. Workshop sessions will take place through an online format that includes synchronous and asynchronous modes of interaction.
Note: Teachers licensed in states other than TN are invited to attend and will receive a certificate of attendance but will not receive the TN employment standard. Most content is not state-specific. Alternative activities will be provided during state identification conversations.
Live sessions are held each Tuesday and Thursday, June 9 through July 2, 2020 and asynchronous learning activities are provided throughout the duration of the session.
You will engage in a variety of learning experiences such as projects, discussions, lectures, modeling, and collaboration with other education professionals. All participants will complete readings and additional assignments outside of the Tuesday and Thursday times. Attendance at all live sessions is required.
Topics discussed include the following:
Misconceptions and myths about gifted students
Conceptions and characteristics of giftedness
Identification and assessment of gifted students, including those typically underrepresented in gifted programs
Working with special populations of gifted students
Social and emotional development of the gifted child
Evidence supported instructional strategies for working with gifted students in a variety of settings
Selecting and evaluating curriculum resources
Fall and Spring Professional Development Opportunities
Each fall and spring, PTY's Gifted Education Institute hosts on-campus learning opportunities for educators and administrators from schools and districts across the country. Mark your calendar for our upcoming fall and spring on-campus programs. More information coming soon!
Fall 2020 Online Dates Coming Soon!
Spring 2021 Conference
Monday, March 8 – Tuesday, March 9, 2021
Other Resources for Educators and Families
We view our mission at PTY as supporting students and families in developing their talents. We recognize that many families and teachers are figuring out how to help their young students operate in an online learning environment. In an effort to connect you with resources during this time, we would like to share that the National Association for Gifted Children (NAGC) has created a website for families and educators that includes parent tip sheets regarding how to talk to your child about COVID-19, teaching in an online learning setting, and links to student activities and virtual learning options. In addition, PTY has taken modified select lessons from our field-tested and published curriculum for your use at home.