VSA (Rising Grades 7-12)
Vanderbilt Summer Academy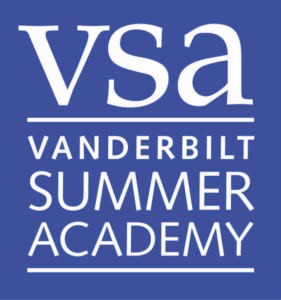 Who? VSA classes are designed to be accelerated to meet the needs of gifted and high-ability students. Because classes are accelerated, we ask applicants to submit eligibility materials so that we can determine if an accelerated course would be a good academic fit for a student. See the section on eligibility for more information.
What?  VSA is a residential academic program that offers accelerated courses, dynamic recreational activities, and the opportunity for academically advanced students to learn from content experts and each other within a supportive environment.
As a VSA student, you will take accelerated courses with instructors drawn from the wealth of talented faculty and scholars here at Vanderbilt University and in the Nashville community. Outside the classroom, VSA students participate in a variety of evening activities, explore extracurricular enrichment activities and have free time to make new friends.
When? Students attend a June or July session for their age group. The dates and length of each session varies. Visit the "How to Apply" page for our Summer 2022 dates and application timeline.
Where? During their stay, VSA students will reside in a residential hall on The Ingram Commons, where first-year Vanderbilt students live during the academic school year. Courses are held in classrooms across the Vanderbilt University campus, with the majority of courses taking place on the Peabody Campus. Students eat most of their meals in the Commons Dining Center, a short walk from the residence hall.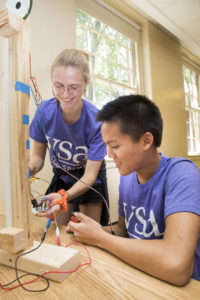 Eligibility: Students applying to Vanderbilt Summer Academy must submit qualifying documentation at the time of application. Test scores in the 90th percentile and above for their age group in one or more sections on an advanced achievement assessment (ACT, SAT, PSAT, or AP scores within the content area of the course) or any other nationally normed standardized assessment (such as state testing, if advanced achievement assessment scores are not available) would suggest that this program might be a good fit academically for a student. We look specifically at strengths and accelerated achievement in the content area(s) or course(s) of interest. However, PTY does not have cutoffs for standardized test scores in order to apply to the program. Also, please note that scores above the 90th percentile do not automatically guarantee admission into the program.
All students are also required to submit a current transcript. Grades of mostly As and Bs in the most academically advanced courses your school offers typically suggest that the VSA program would be a good academic fit. Please make sure your transcript reflects required particular required prerequisites (if any) for certain VSA courses. Through the transcript review process, we are looking for students who are highly motivated. PTY also understands that extenuating circumstances might impact a student's grades. Please make sure you provide additional information if you believe your grades do not accurately demonstrate your ability or commitment to academics.
Additionally, we, at PTY, understand that there are additional ways to reflect a student's academic knowledge and capacity for advanced academic coursework besides test scores. Feel free to contact the VSA office for questions about scores or a transcript that do not meet these criteria, as alternative documentation through additional portfolio information may be acceptable. For more details about eligible scores and portfolio materials, please see the VSA How To Apply page.
Rising 7th or 8th Grade Student? Students who have recently completed 6th or 7th grade have the option to attend VSA, where they will spend 5 days and 5 nights living and learning on the Vanderbilt campus. However, ff you are looking for an immersive non-residential option, PTY also offers Career Connections at SAVY, a day program for rising 7th and 8th grade students. Learn more about Career Connections at SAVY. Rising 7th and 8th grade students can attend both the residential VSA and day Career Connections program. It is important to note that the application timeline for Career Connections and VSA are slightly different if a student is applying to both programs. Call the PTY office at 615-322-8261 for more information on how to apply for one or both programs.