For Students
PTY is committed to planning quality and accelerated classes for students virtually and in person.
We will continue online opportunities this fall and winter or until such time in-person services can resume. If you are interested in academic programs this fall and winter, check out our online opportunities. Offerings include one month accelerated classes for 3rd through 11th grade students as well as intensive 6-month mentorship experiences for students in 10th-12th grade.
PTY has also already started making initial plans for Summer 2021. We plan to offer a variety of online opportunities and experiences this upcoming summer. PTY will make a determination about on-campus day and residential experiences for Summer 2021 by mid-January. At this time, the website will be updated with important information and key dates.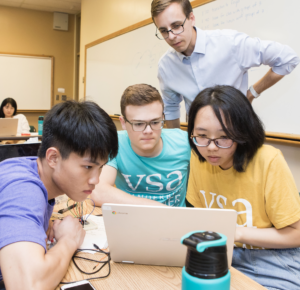 Vanderbilt Programs for Talented Youth offers accelerated courses for gifted and high-achieving students in Kindergarten through 12th grade. Courses are designed for academically talented and motivated learners. PTY strives to offer courses led by Vanderbilt faculty, graduate students, and content experts that focus on:
Exposure to a variety of accelerated content areas in which students have documented potential and interest
Efficacy in one's ability to perform rigorous tasks in a content area and develop social-emotional habits of a scholar
Expertise and in-depth learning in an area of interest and talent
On-campus programs are hosted on Saturdays during the academic year and on weekdays during the summer months. Virtual program dates and times vary.
Virtual Programs

On-Campus Academic Year Programs

On-Campus Summer Programs

PTY Online Academy
Grades 3-11
Saturday Academy at Vanderbilt for the Young
Grades K-6
Summer Academy at Vanderbilt for the Young
Rising Grades 1-6
PTY Online Academy is an online learning opportunity that offers synchronous and asynchronous experiences for the advanced student in your life. Students enroll in one class that meets live and online for approximately one and a half hours twice a week or three hours once a week for approximately four weeks.
The Saturday Academy provides a dynamic, fast-paced curriculum experience to qualifying advanced students in grades K-6. Content experts and master teachers trained in gifted education implement an accelerated curriculum for all SAVY courses. This program meets for three consecutive Saturdays in the fall and spring of each academic year.
Summer SAVY offers qualifying gifted students entering grades 1-6 a fast-paced, accelerated curriculum taught by content experts. Summer SAVY is a weekday program in which parents can choose a variety of courses from six different one-week session options. Students sign up for one SAVY class per session to explore a topic in depth. Students may enroll in multiple sessions.
Mentor Immersion: A Virtual Research Experience at PTY
Grades 10-12
Weekend Academy at Vanderbilt University
Grades 7-12
Career Connections at SAVY
Rising Grade 7
PTY's mentorship program is a unique experience offering in-depth exposure in a field of interest and the potential for independent research or a culminating product to be created with expert feedback. This program is a one semester program during the Spring 2021 term (January – June) and students meet synchronously for 2 hours each week.
A Saturday intensive that provides qualifying students with an in-depth look at contemporary careers in math, science, engineering, and humanities. Held for one full Saturday each fall and spring, WAVU incorporates accelerated laboratory courses led by professionals in their field, and an opportunity for in-depth career exploration along with support and resources for families.
Career Connections at SAVY is a program within Summer SAVY specifically designed for students who have recently completed 6th grade. Career Connections immerses students in a topic of study as they experience the application of advanced content in a unique field. Career Connections allows students to experience how expert knowledge and skills are applied in different fields, industries, and/or research.
Vanderbilt Summer Academy
Rising Grades 7-12
Students in this enriching residential program get a taste of life on a college campus. They engage in accelerated coursework taught by Vanderbilt faculty and scholars while living in a vibrant social community of intellectual peers. VSA convenes each June and July in one-, two-, and three-week sessions for qualifying gifted students and a variety of different subject offerings are available each session.