PTY Online Academy
The next PTY Online Academy session has yet to be announced. Please check back for future program announcements.
PTY Online Academy is an online learning opportunity that offers synchronous and asynchronous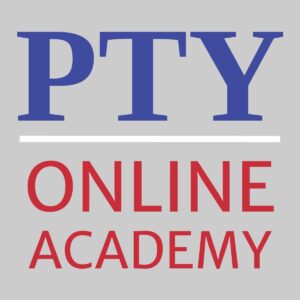 experiences for the academically advanced student in your life. Students enroll in classes that meet live and online. PTY Online Academy offers a variety of course and meeting time options to fit unique schedules. Session meeting times and dates are posted with each course description. Outside of class students complete asynchronous assignments and meet during office hours with their instructor or teaching assistant for additional help.
PTY Online Academy is not the same as our on-campus programs and we do not presume in any way that this will replace the in-person experience. However, our online courses still serve an important purpose in our mission of developing talent and expertise in young students. Our online experience offers students the opportunity to interact with content experts, engage with like-minded peers, and continue learning something new in an area of interest.
Jump to: Schedule of Program | Tuition and Fees | Eligibility | How to Apply | Technology and Material Requirements
Schedule of Program
Dates
The next PTY Online Academy session has yet to be announced. Please check back for future program announcements.
Similar to our in-person learning experiences (SAVY, WAVU, or VSA), students will choose a course from their grade level offerings and sessions. Specific course times and dates are typically listed with the course descriptions. Students may sign up for multiple classes/sessions. When a session is announced the course descriptions and the meeting times and days of the week for each class will be posted on the PTY Online Academy Courses page.
Online, synchronous learning sessions will be live with the instructor, teaching assistant, and other students enrolled in the course. Each class will be capped at approximately 14-16 students for 3rd-6th grade and 18-20 students for 7th-12th grades. Outside of the online meeting times, students will be asked to complete assignments to advance their knowledge of the topic. The instructor and teaching assistant will also set a time for weekly office hours, different from the course meeting times, during which students can ask additional questions and seek support for their asynchronous activities.
Course Options and Meeting Times
To get an understanding of PTY Online Academy opportunities, visit our PTY Online Academy Course page to see past course options. Course descriptions for future sessions will be posted prior to the application window opening.
Tuition and Fees
A $50 non-refundable application fee is required at the time of application.
Students applying for multiple classes within a PTY Online Academy session will complete individual applications. However, if a student apply for multiple classes within a summer or academic session for PTY Online Academy, only one $50 nonrefundable application fee is needed per student. Families will receive a tuition statement via email if a student is placed in a ranked course. If a student applies to multiple sessions, families will receive individual admissions emails for each session. PTY does not collect full tuition until after a student has been admitted to a session.
The tuition cost for PTY Online Academy varies based on the session design and is posted with each specific session. Need-based financial assistance may be available.
Eligibility
Students who test around the 85th percentile or above on an ability test or in at least one content area on a standardized achievement test are eligible to participate in a PTY Online Academy course in their area(s) of strength. We accept many standardized achievement or ability tests including, but not limited to, the following: PSAT, SAT, ACT, CogAT, TCAP, ERB, Stanford Achievement Test, OLSAT, Woodcock Johnson, WISC, state-standardized testing. Out-of-level standardized assessments are also accepted. While scores around the 85th percentile are typically a strong indication that PTY Online Academy is an appropriate curriculum match for a student, feel free to contact the PTY office (pty.peabody@vanderbilt.edu) for questions about scores that do not meet these criteria, as alternative documentation may be acceptable. Students without test scores should work with their schools to obtain documentation of their advanced learning potential.
How to Apply: Admissions Process & Placement
Students interested in PTY Online Academy are encouraged to apply during the priority application window, which is announced on the PTY website at least 3-4 weeks in advance of the opening of a window.
All applications received during the priority window will be considered part of the primary applicant pool regardless of the specific time within the window they were submitted. All complete and qualifying applications submitted during the application priority window have the same chance for placement. Upon the close of the window, all applications received will be randomly assigned a number determining their order in the review queue for the session (fall, spring, or summer). Applications of siblings will be reviewed and placed simultaneously, space permitting. Applications received after the application priority window will be time and date stamped upon arrival and reviewed in order of receipt.
Applying during the priority window does not guarantee admission, but it increases your student's chances. We strongly recommend applying during this window. If space in a course remains after the priority window has ended, courses will be filled on a first-come, first-served system, based on availability and eligibility. Waitlists will be maintained for full courses.
We encourage students applying after the close of the priority window to visit the PTY Online Academy Course page before applying to check course availability, as the application fee is nonrefundable regardless of whether a student is placed in a course. Please note that while we try to keep our website as up-to-date as possible concerning course availability, sometimes our availability changes quickly during peak application times. Make sure to check the date published on the website of when the course availability page was last updated. Many of our courses fill quickly, so we recommend that students apply as early as possible for the best chance of receiving their top choice course.
Course Placement
In your application, students should rank the course choices in order of preference, with 1 indicating  first choice. Students may rank as many choices as they like. We will make every effort to place a student in their first choice. However, courses fill very quickly, and we will place a student into your highest-ranked course based on seat availability at the time we review the application. Thus, we encourage students to rank only courses they are willing to take. Once a student is placed in a ranked course, the family will be notified and the spot will be held with previous tuition payment. If a student is initially placed in a lower-ranked course, the student will remain on the waiting list for any higher-ranked courses regardless of whether a family pays the tuition balance to secure a spot in a lower-ranked course.
Admission Notification
Once a completed application has been submitted, a student can typically expect an admission notification via email within three to four weeks. If the student is admitted, the admission notice will also include the tuition statement. For families who have applied for financial aid, financial aid information may be included in the admission notice if financial aid materials have already been submitted. The tuition balance for financial aid applicants will not be due until the financial aid materials have been processed and the award communicated to the family. Only complete applications are fully processed, so, if any items are missing (e.g., application fee, qualifying documents, etc.), PTY will contact you to alert you to the incomplete status.
Waiting List
A waiting list notification is due to space availability only and is no indication of student ability or merit. At the time of your application review, if no openings remain in your first choice course, we will look to see if a seat is available in your second choice course, and so on. Even if we place you in a lower-ranked course (due to availability), you will remain on the waiting list(s) for your higher-ranked course(s). If a seat becomes available in a higher-ranked course, we move the first student on the waiting list into that seat. Waiting lists are held until close to the start of the program session. No tuition payment will be owed until you are placed in a course that you ranked in your application. The application fee, however, is nonrefundable.
If your student has been waitlisted, and you have questions about their status, please contact PTY at 615.322.8261 or pty.peabody@vanderbilt.edu.
Required Forms
Upon admission into the program, families will receive instructions concerning required forms. Required forms includes emergency contact information, participant permission, media release, etc. All students who participate in programs through Programs for Talented Youth (PTY) must have current required forms for the 2020-2021 school year on file with PTY.
Cancellation Policy
The application fee is nonrefundable for all applicants. No tuition refunds will be granted after the refund deadline for the session. Please see the Tuition and Fees section above for a list of tuition deadlines. No tuition refunds will be provided after the tuition deadline for a session.
Financial Assistance
PTY is committed to making programs available to academically advanced students regardless of a family's ability to pay the full tuition. Therefore, need-based financial aid is available based on income. The PTY application review process is need-blind and does not consider financial status. Applying for financial aid will not negatively impact a student's application. If you plan to apply for financial aid at the time of application submission, you may do this as part of the online application process. You may apply for financial aid at any point in the application and admission process. If you choose to apply for financial aid after submitting your application, please contact the PTY office (615.322.8261) to discuss submission options. The financial aid application includes completing a series of questions within our online portal and uploading household's most recent tax return. We ask that you remove all SSNs and/or other sensitive information.
Your student may be offered admission to the program before receiving a financial aid award. You are not obligated to officially enroll your student until you receive a financial aid quote. When your financial aid quote is received, you may accept or decline the amount and placement in a course. In addition to providing need-based financial assistance options, PTY also offers all families the option to set up a monthly payment plan for their student's tuition. A student does not have to apply for financial assistance in order to set up a payment plan option. After receiving an admission notification, families interested in setting up a payment plan can do so in their SchoolDoc account. Please see the PTY webpage for more information about setting up a payment plan. Please contact 615.322.8261 if you have additional questions about financial aid or setting up a payment plan.
Technology and Materials Requirements
Internet speed: Many online video conferencing platforms, which will be utilized for live classroom experiences, have specific bandwidth requirements. Typically, an internet speed of 1.5 megabits per second (mbps), for both upload and download speeds, is needed on these platforms. If you would like to test your internet speed, you can visit: http://www.speedtest.net/.
Device: It is recommended that students have uninterrupted access during live class times to a laptop computer, desktop computer, iPad, or tablet for classroom experiences. Students should not use a mobile device. Windows, Mac and Chrome OS Operating Systems are compatible with all courses. Please note: Some classes may require additional technology. Technology requirements that differ from the standard will be posted with the course description of the class.
Class Materials: In addition to a computer, most class materials required will be typical classroom supplies (e.g. pencil/pen, notebook, graph paper, ruler, calculator) and are provided by the student. Any specific materials (e.g. book, downloadable documents) will be provided by PTY. Some classes may also require free software to be downloaded. This information will be provided before the course begins or as soon as possible. Any required texts will be sent to a student's home address as listed in their SchoolDoc account. Please make sure your SchoolDoc profile is up-to-date with the correct mailing address information.