For Parents
Programs for Talented Youth is dedicated to aiding parents and families of academically advanced and high-achieving students as they foster the talents and abilities of their children. We offer parent support groups to help parents better understand and deal with the unique social, emotional, and cognitive needs of gifted students.  We also offer a list of resources to help inform and empower parents of gifted students.
Spring 2024: Parent Support Group
Raising academically advanced children can be exciting, rewarding, and sometimes overwhelming. Their social and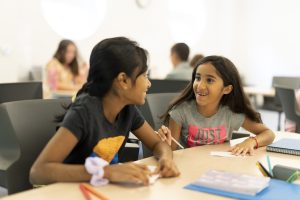 emotional needs and cognitive timetables are often out of sync with those of their peers. It can be difficult to find other parents who understand the particular joys and frustrations posed by these developmental differences. Parent support groups offer families the opportunity to connect with other parents of academically advanced children and learn about the following topics:
Identification
Motivation
Teaching Self-Management
Intensity and Perfectionism
Depression
Communication of Feelings
Peer Relationships
Family Relationships
Establishing Discipline
Vanderbilt Programs for Talented Youth offers support group opportunities throughout the year. The meetings are held on Vanderbilt's campus.
Upcoming Session:
Dates of Session: 
January 27
February 3
February 10
Time: 9:00AM to Noon
Cost: The cost for participation is $125 for one parent/guardian and $50 for each for each additional parent/guardian.
Summer Description: The parent group sessions will be facilitated by a professional school counselor who has experience working with high-ability students and their parents. Parenting Gifted Children, edited by the National Association for Gifted Children (NAGC), will be used as a supportive reference during this session. The book is included with the registration fee.
Registration Information:
Participants will be able to register for the parent group through SchoolDoc.
If you already have a SchoolDoc account for your student, please complete the following steps.
After you login to your existing SchoolDoc account (https://app.schooldoc.com/register/vanderbiltpty):
In the left column, click the 

+ NEW PARTICIPANT

 button.

Add your name and birth date.

Click the 

CONTINUE

 button.

You can then choose to register for a new session under your name.
In the Session filter, choose "Parents" and the Parent Group will appear.
If you are registering for two parents, you will need to complete the steps above twice (one for each parent/guardian). You will enter "PGROUP" as the coupon code on your second registration so that you are only charged $50 for the additional parent registration.
Other Links and Resources