VSA Academics & Course Listings
Jump to: Philosophy | Instructors | Feedback & Assessment | Course Work | Previous Courses | Asynchronous Work
Our Philosophy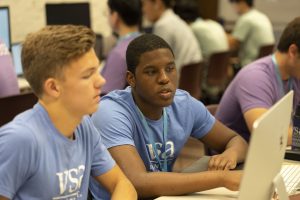 Vanderbilt Summer Academy offers a challenging introduction to the academic rigors of college life. Students will enjoy the excitement of in-depth, accelerated study of a fascinating subject within a community of intellectual peers. Our courses are filled with wide-ranging, interdisciplinary topics, such as nanotechnology, biomedical ethics, and philosophy, history, and medicine.
Regardless of where their interests take lie, we have courses designed to provoke ongoing discussion and learning. Above all, VSA will uniquely challenge and foster students' abilities in a supportive and engaging environment.
Please consider course choices carefully. While reviewing course descriptions, students should rank-order as many of the courses as they like, knowing that they may not get placed in their first choice. While we do our best to place students in their first-choice courses, we often have to place students in second- or third-choice courses based on availability. Please note that ranking more than one course never hurts the possibility of receiving the top choice, and ranking several courses increases the chances of being placed in a course. Students should rank only those courses that they are truly willing to take. If placed in a lower ranked course, the student will remain on the waiting list for higher ranked courses; however, a spot may not open in a higher ranked course. Rank thoughtfully to ensure an enjoyable VSA experience!
Instructors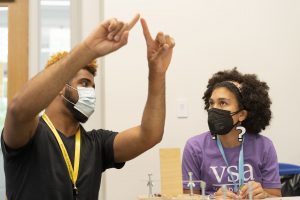 Vanderbilt Summer Academy instructors are drawn from the wealth of talented faculty and scholars here in the Vanderbilt University and Nashville communities and include many distinguished professors, scientists, and researchers. All instructors are carefully selected not only for achievements in their fields, but also for their commitment to excellence in classroom teaching. Our outstanding VSA instructors serve as academic role models, providing instruction and insights into their areas of study.
Feedback and Assessment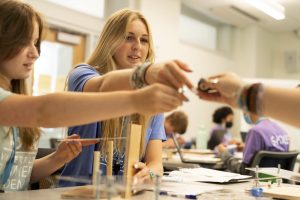 In order for students to best experience the joy of learning within a group of true intellectual and social peers, VSA is a non-graded program and does not offer credit for course work. This design allows VSA students to take part in accelerated learning in an environment tailored to promote academic risk- taking. We encourage students to push their intellectual limits without fear of failure. Instead of a grade, students receive a performance evaluation. This thoughtfully prepared, constructive feedback from the instructor will help students accurately assess their achievements in the course work. More than a number or letter, this rubric is designed to help students understand their performance and abilities and to guide them in charting future academic endeavors.
In addition, because Vanderbilt Summer Academy realizes that parents are important partners in the intellectual growth of their children, instructors make themselves available to parents for an optional end-of-session virtual open house.
Our Course Work
The Vanderbilt Summer Academy course curricula are designed to meet the intellectual needs of advanced students.
Vanderbilt Summer Academy courses are:
• Accelerated and unique, offering students the opportunity to explore areas of study not typically available elsewhere
• Fast paced and rigorous with an emphasis on critical and creative thinking
• Drawn from a broad range of disciplines in order to maximize the potential for interdisciplinary study
• Rooted in the rich academic and cultural environment of Vanderbilt University and the surrounding Nashville community
Vanderbilt Summer Academy offers the opportunity to explore exciting new areas of study—in and out of the classroom. Many courses offer visits to campus libraries, laboratories, archives, and studios, not to mention occasional field trips to off-campus resources that Nashville provides. The innovative curricula allow the students to learn through hands-on activities, real-world scenarios, laboratory experiments, lively group discussions, and self-directed projects.
With approximately six hours a day devoted to academic learning, VSA courses allow for a satisfying level of focus and depth. And while the course work can be exciting and intensive, outside of class, students will be able to fully enjoy the social and recreational activities Vanderbilt Summer Academy has to offer.
Asynchronous Work (Rising 11th/12th Grade)
Each afternoon after free time, VSA students will return to their residential halls to complete 30-45 minutes of a carefully curated asynchronous assignment from their course instructor. Asynchronous assignments are designed to reinforce, synthesize, and support the rigorous VSA classroom experience so that the instructor can maximize students' in-class learning time. Examples of asynchronous assignments include, but are not limited to, scholarly readings, reflection posts related to course material, problem set completion, or final project preparation.
Either a computer or iPad will be needed for completion of assignments during asynchronous times because students will need to log into Brightspace, Vanderbilt's learning management platform, to access materials.
Please note, students will also utilize Brightspace to access important residential life information such as activity sign-up forms and the VSA student handbook. We also have restrictions on the use of these devices, which we will ask students to follow. The policy for use of electronics will be outlined in the student handbook. VSA is not responsible for lost or stolen items. VSA has a limited number of loaner laptops. Please contact our office (vsa.pty@vanderbilt.edu) by April 1, 2024 if you will be unable to bring an iPad, tablet, or laptop to campus.