The Tennessee Employment Standard
Best Practices in Identifying and Teaching the Gifted Learner: Tennessee Employment Standard 2023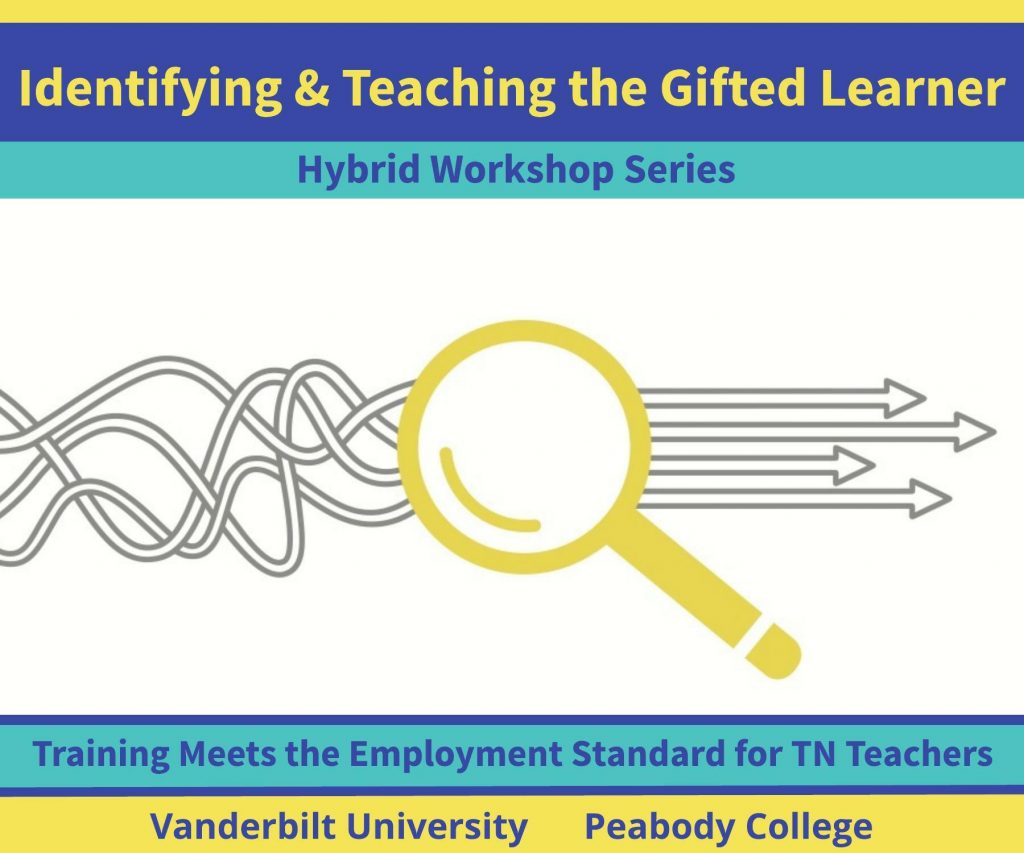 August 26, 2023 to January 6, 2024
Join us for this exciting educational experience that explores ways to identify academically advanced learners and differentiate instruction for them. Workshop sessions take place every Tuesday evening through a live online format. Three additional in-person experiences take place at the start, middle, and end of the experience to help further the learning.
Note: Teachers licensed in states other than TN are invited to attend and will receive a certificate of attendance but will not receive the TN employment standard. Most content is not state-specific. Alternative activities will be provided during state identification conversations.
Live virtual sessions are held each Tuesday evening, August 29 through January 2. There are three required full-day, on-campus experiences: August 26, October 28, and January 6. Some asynchronous learning activities are provided during the session to support the learning, along with a mid-session project and end of the session project.
You will engage in a variety of learning experiences such as discussions, lectures, modeling, and collaboration with other education professionals. Attendance at all live sessions is required.
Topics discussed include the following:
Misconceptions and myths about gifted students
Conceptions and characteristics of giftedness
Identification and assessment of gifted students, including those typically underrepresented in gifted programs
Working with special populations of gifted students
Social and emotional development of the gifted child
Evidence supported instructional strategies for working with gifted students in a variety of settings
Selecting and evaluating curriculum resources
Dates and Times

Required live virtual sessions:
Tuesdays from August 29, 2023, to January 2, 2024 – 6:00PM to 9:00PM CST
Sessions will not meet October 10, November 21, December 19, and December 26
Required in-person experiences:
Saturday, August 26 – 8:30AM to 4:00PM CST
Saturday, October 28 – 8:30AM to 4:00PM CST
Saturday, January 6 – 8:30AM to 4:00PM CST
Additional activities (readings, discussion posts, small group assignments, projects, etc.) may be assigned to continue the learning. Successful completion of a mid-session assignment and final project are required for the Employment Standard certificate.
Attendance is required at all live sessions and in-person experiences. Sessions will not be recorded.
Cost
$1,500 per person
Registration Options

Registrations are accepted on a first come, first serve basis.
We are no longer accepting registrations for Fall 2023.
Technology Platforms and Requirements
We will meet via Zoom for live sessions and use Brightspace learning platform for discussion boards and other requirement assignments. Additional information about how to access these platforms will be provided approximately 5-7 business days prior to the first session.
You will need the following technology in order to participate:
Internet speed: Many online video conferencing platforms, which will be utilized for live sessions, have specific bandwidth requirements. Typically, an internet speed of 1.5 megabits per second (mbps), for both upload and download speeds, is needed on these platforms. If you would like to test your internet speed, you can visit: http://www.speedtest.net/.
Device: It is recommended that Employment Standard participants have uninterrupted access during live session times to a laptop computer, desktop computer, iPad, or tablet for session experiences. Participants should not plan on using a mobile device. Windows, Mac and Chrome OS Operating Systems are compatible with the platforms used for the Employment Standard.
Workshop Materials: In addition to a computer, most materials required will be typical classroom supplies (e.g. pencil/pen, notebook, etc.) and are provided by the participant. Additional information about accessing online materials will be provided in an email shared with participants a week in advance of the first session.
Cancellation Policy
A minimum number of participants is needed to hold this event. VU may cancel up to five business days prior to the workshop and will provide a full refund. Participants may also cancel up to five business days prior to the workshop for a full refund. All participant cancellations prior to five business days before the workshop begins are subject to a $50 service fee. A 50% refund will be granted for cancellations within four business days or less of the program. No refunds are provided after the start of the workshop. Participant cancellation must be received in writing.
For Licensed Teachers in Tennessee: Employment Standard
For licensed teachers in TN, qualified participants who successfully complete the Employment Standard sessions and all commensurate training work are eligible for the Tennessee Employment Standard in gifted education. Participants will be awarded a document that indicates the employment standard has been met. Please check with your district's licensure office before registering for this training to be sure they will accept Vanderbilt's Employment Standard contact hours for employment in your district. This workshop does not constitute course credit from Vanderbilt University or an added endorsement or license in Gifted Education. This is a certificate-based program.
Note that participants must attend all sessions to be eligible for the standard.
For more information visit PTY's Tennessee Employment Standard FAQ page.
*Note: PTY works with DocNetwork/SchoolDoc (an online third party provider) to collect and process student registrations. Even though you are completing a paper application, an online profile in DocNetwork will be created for you using the information you provide in this application. SchoolDoc and VU staff will have access to registration information as needed and the SchoolDoc.com site is encrypted and password protected. You will receive an email with instructions on accessing your online account and setting up a password once this application has been processed. You will also have the option of completing required forms and paying tuition through the account, if desired.
By registering you give PTY permission to load your information into the SchoolDocs account.