Summer SAVY 2022/Session 4 – Exploring Anthropology for Rising 7th/8th Grade
Friday: Our SAVY anthropologists closed out the session by presenting their short films in the First Inaugural SAVY Anthropology Film Festival. We were joined by the SAVY poets from the Writing with Fire class.
Each SAVY anthropologist prepared a five-minute film that explored the question "what is culture?" They all defined culture in distinct ways and then illustrated aspects of culture using examples from around the world.
 There were films about rites of passage, native Hawaii, historical changes in Vanderbilt culture, Jamaican traditions, global clothing traditions, the Toda people's religion, and the link between culture and food. I was impressed by the creativity our filmmakers showed and the breadth of topics they chose.
Here are some questions you can ask your SAVY anthropologists to continue the discussion at home:
How do you define culture?
What aspects of culture are you most interested in?
What examples did you use in your film?
Why did you choose those cultures to research?
What was the most important takeaway from this SAVY session?
Here are some photos from the wonderful short films.
Thursday: The SAVY anthropologists continued practicing their skills in ethnography today. This morning we reviewed the concept of participant observation, a type of data collection in which anthropologists actively participate in community activities as part of their studies. I walked them through my research in Colombia and the types of participant observation I do in the field including attending community meetings, visiting families in their homes, and learning to cook local dishes.
After lunch, we practiced this method. The SAVY anthropologists stayed in the Commons Center to interact with VSA students as they played pool, foosball, and chatted in groups.  The SAVY students were a little nervous to approach the high schoolers at first, but after ten minutes were engaged in conversations and playing games. When we debriefed, I was impressed by their detailed observations about gender dynamics, styles of dress, and VSA culture.
The rest of today, students continued to work on their videos, which they will present tomorrow. They made detailed storyboards and are putting those plans into practice as they explore religion, food, clothing, and rites of passage around the world.
Wednesday: Our SAVY anthropologists explored research methods today. We started the day by interviewing VSA residential staff to learn about culture at VSA, on college campuses, and in the different places the interviewees are from. I was impressed with the SAVY anthropologists' ability to listen to their interviewees and ask compelling questions.
Later in the day, we watched The Anthropologist, a documentary featuring a mother and daughter who travel to various parts of the world to learn how different communities are experiencing climate change. We had an in-depth discussion about why centering human beings when we talk about large-scale processes is important and why anthropologists often become activists. I was impressed with the students' empathy and compassion for vulnerable populations. They were also keen observers of how people around the world are adapting to climate change.
At the end of the day, we began working on the students' mini documentary project. Each student is making a short film that answers the question "What is culture?" They are choosing specific aspects of culture such as religion, food, language, or place. Tomorrow we will continue this project as they make storyboards and research examples they will use.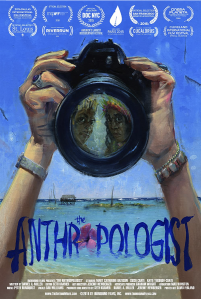 Tuesday:  The SAVY anthropologists explored language and food today as window into how culture changes when people migrate. We started the morning with a tour of the CLACX Ethnobotanical Garden led by Dr. Avery Dickins de Girón. Dr. Dickins de Girón showed us several medicinal and food plants in the garden that come from Central America, Mexico, the Caribbean, and South America. One of the most interesting plants we learned about was the toothache plant from Brazil, which is used for its natural numbing properties.
In the afternoon, students researched dishes that are important to them and tracked down where the key ingredients come from. We learned that almost all dishes that may be associated with one country have ingredients that come from multiple continents. For example, spaghetti with tomato sauce is associated with Italy but has ingredients from Western Asia (wheat), The Andes (tomatoes), and India (basil). This activity allowed us to discuss how cultures shift and change with patterns of colonization, migration, and trade.
We also focused on dialects of English within the United States and took the How Y'all and You Guys Talk quiz. We reflected on differences in vocabulary and pronunciation depending on what part of the country or world our families come from. We also discussed how some people have prejudiced ideas about dialects and sometimes discriminate against others who speak differently.
Tomorrow we will be practicing our anthropological skills with semi-structured interviews and analyzing an ethnographic film before beginning our final project, which will be student-produced short films.
Monday:  Our budding anthropologists had a dynamic day learning about culture and practicing their new anthropological skillset.
To ground the SAVY anthropologists, I started the day by defining culture and learning about the different aspects of culture that anthropologists study such as rituals, food, and religion. We are using Like Eric Lassiter's definition of culture: "a shared and negotiated system of meaning informed by knowledge that people learn and put into practice by interpreting experience and generating behavior."
We put this into practice in our "build your own clan" activity, in which I split the SAVY scholars into two groups and had them form clans. They came up with their own symbols, traditional foods, rites of passage, and common ancestors. They made the "Seal Clan" and the "Anarchist Noodle Clan." You can see photos of their flags below.
Students then split up into groups to practice their new skills doing semi-structured interviews. We use the term "semi-structured" because anthropologists do not use a set interview script, but rather start with some questions and ask follow-up questions depending on how their "informant" (interviewee) responds. I was impressed with the depth of questions they asked each other and the curiosity they showed in learning about each other.
Tomorrow, we are going on a fieldtrip to the CLACX Ethnobotanical Garden. We will focus on the connection between the natural world, food, and culture. Students should bring sunscreen, insect repellant, hats, water, comfortable clothes, and anything else they need to be comfortable outdoors.