SAVY 2019: Session 4, Day 2 – Unpacking the Magic of Harry Potter (Sarah B.) (Rising 5th/6th)
Good afternoon, SAVY parents!
We have just wrapped up a fantastic second day exploring Harry Potter using the lenses of critical theories. Today, we began with a whole-class analysis of The Tale of Peter Rabbit as practice for applying these theories to a classic children's text, and our students did an amazing job pointing out how gender roles and stereotypes appear in the text. We were so impressed by how students listened to differing opinions and offered their own opinions and evidence with open minds.
After our whole-class discussion, we broke into literature circle groups, where each group had a passage from one of the first two Harry Potter novels to analyze. Each student had a role in their group—discussion leader, quote master, critical theorist, or context enricher—and students rose to their assigned task gamely!
We continued our morning by refining our research questions and creating our data collection plans. Each pair of students came up with a question of interest to them, then detailed how they'll collect data to begin answering their questions. Tomorrow, we'll do some interviews to gather other perspectives and continue our brief foray into the world of qualitative research.
ORA today was quidditch, which apparently was such a hit that the students requested that they play again every day! It was truly a sight to behold, with robes flying as students galloped with their "brooms" across the quidditch pitch.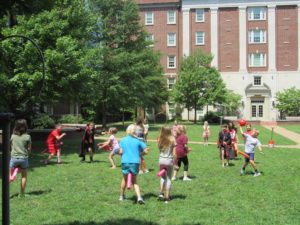 After lunch, we discussed the article "Casting a Black Hermione Granger Underscores a Key Harry Potter Theme" by James Poniewozik (https://www.nytimes.com/2015/12/21/arts/black-hermione-harry-potter-theme.html ). We talked about why some people were upset by the decision to cast Hermione as a black woman, J.K. Rowling's response to this, and what that might mean about our interpretations of race in fiction.
We took a break from the analytical work to do a rousing round of Harry Potter trivia,which was a lot of fun—and even the questions we thought might stump the students were no match for our trivia teams. Their knowledge–and exuberance–knows no bounds!
Finally, we looked at a clip from the film Harry Potter and the Goblet of Fire and did a whole-class analysis of how gender and culture were portrayed—and how stereotypes were represented or resisted—through cinematic choices, sounds, dialogue, costuming, and choreography.
We can't wait for another awesome day tomorrow!