Summer SAVY 2019: Session 3, Day 5 – Stories Galore! (Rising 3rd/4th)
Hi families,
It was lovely to see you at the showcase this afternoon! Here's what happened beforehand: having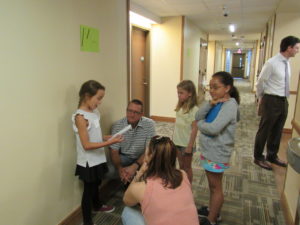 written so diligently all week long, the class earned a bonus genre for today: scary stories. I read Juanita Havill's short story "The Mysterious Girl at the Pool" aloud to the class, lighting up my face with
my creepy flashlight as I went. (At least, I tried to be creepy; it was nine a.m. with sunshine comingthrough the windows.) Then, we all wrote scary stories of our own, with a particular focus on tension-building. The goal was to take the story from a situation that was just slightly weird (a living suit of armor, in one student's story) to a fairly scary situation (a riddle-asking python, in another), to the absolute scariest (minotaurs, raging bulls, ghost kings, etc).
Later on, we played a review game to test our knowledge from the week (congrats, Team Legend!), and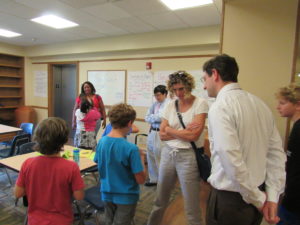 rehearsed our presentations for the showcase. Then, after our end-of-week assessment, it was time for our final challenge of the week: genre-bending. I challenged the class to write a one-page story in which elements of all five of our genres were present, to excellent results.
Thanks for sending your kids to us this week! This was truly a good group—thoughtful, diligent writers, who consistently treated one another with kindness and respect. They were a pleasure to teach.
Maddy