Summer SAVY 2019: Session 3, Day 5 – Beyond the Pyramids (Rising 1st/2nd)
Dear SAVY Parents!
What a great final ending to an amazing week!  We continued to add to our timeline (which wrapped all around the room) by investigating the formation of the earliest civilizations.  People groups live and work together and organize governmental systems as organizations for education, advanced arts, and sciences.  Who was the first king in recorded history?  Who was the first king in oral traditions? How did the Pharaohs of Egypt become know as gods?  How are myths developed and what can we learn about a civilization from these stories in different cultures? In the story of "The Winged Cat" we explored a popular myth of ancient Egypt.  It was a favorite of the whole week!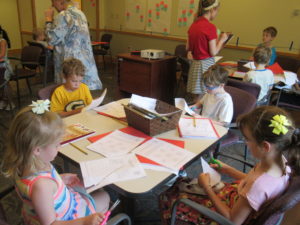 Mummies!  We all want to see them and touch them and learn more about them.  We observed tourism can be intrusive and even damaging to a culture?  How can we learn about ancient antiquities in ways that preserve them for future generations?  What problems are caused by tourism and how can we solve those problems?  We have a reasoning model!
Thank you so much for support your child this week, and engaging in the Open House today.  The students were so excited to share their knowledge and work products with you!  I hope to see them in another SAVY class in the near future!
Mrs. Byrd