Summer SAVY 2019: Session 3, Day 4 – Stories Galore! (Rising 3rd/4th)
Dear families,
Day 4 of Stories Galore was devoted to mystery and plot! We began the day by practicing our own detective skills with some riddles and logic puzzles. Next, we studied a few published mysteries to see what we could learn. We discovered that mysteries tend to have a very clear plot structure: almost always beginning with a crime or unexplained event; ramping up tension and suspense as the detectives search for clues; and, finally, ending right after the mystery is solved. We also learned a ton of mystery vocabulary words—evidence, suspects, red herrings, alibis, motives—to help us describe what's going on in the mystery stories we read and write.
Once we were familiar with mystery story structure, we began to plan out our own stories—knowing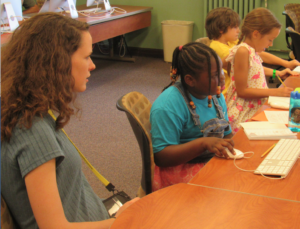 that, while mystery readers don't find out the solution of the crime until the very end of the story, mystery writers have to plan every single plot point in advance. Each student filled out a worksheet to get their ideas organized, listing detectives, suspects, clues, and their crime's solution. We discussed some strategies to make our stories as suspenseful and mysterious as possible, including the incorporation of red herrings, and sneaky ways to make clues blend in to the background.
Then we wrote! Yet again today, we increased our writing time. The class wrote for an hour and fifteen minutes uninterrupted. Then, after a quick break, we wrote for twenty more minutes! This group has excellent focus. We took a little bit more time for some group sharing, and soon it was already the end of the day.
Tomorrow, we'll take a little detour into scary stories, before finalizing our preparations for the Parent Showcase. See you there!
Additional Reading: The Encyclopedia Brown series by Donald J. Sobol