Summer SAVY 2019: Session 3, Day 2 – Data Discoverers (Rising 1st/2nd)
Today was another busy day! We spent much of the day collecting and analyzing data. In the morning, we started by surveying each other about various favorites like fruits, pets, colors, etc. We had some really interesting discussions about what might influence people's opinions as they answer these types of questions. I did a sample survey with the students and asked them to choose a favorite fruit between apple, orange, and banana. I had to throw out my first set of data because some people didn't answer the question. On the next round, the answers were very different even accounting for the people that didn't answer, so we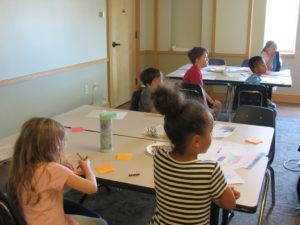 talked about how and why people might answer questions differently. We talked about making sure we didn't influence or contaminate data as we were surveying each other. The students did a survey of favorites with 3 choices and 5 choices and compared the results. We also put a survey in the SAVY lunch area to have a larger set of data. We will find out the results tomorrow!
We learned and followed the steps of the formal research process while we were conducting our surveys. The students have great ideas when it comes to analyzing the data and drawing conclusions. They enjoy comparing their data and sharing what surprised them about their research.
Tomorrow we will be visiting the Building Knowledge Lab on the Peabody campus to learn about the research that they do and how they collect and present data. One of the things that we want to ask about is how the researchers keep from trying to influence their data.
Continue to send in graphs, charts, or tables. It is great for us to see all the different ways data is communicated!