Summer SAVY 2018: Session 5, Day 1 – Chemical Spill, Miss Raff (Rising 3rd/4th)
Hello and welcome to Chemical Spill! We had a very full and exciting Monday. We started off by discussing the scientific method. Your scientists learned about the components of a good research question and how the scientific method is used to conduct research. Then we moved on to chemistry! We focused on understanding elements and chemical compounds. We even did some acid/base chemistry. Everyone did a great job at keeping up with material that many students don't learn until middle/high school. Your scientists used litmus paper to measure the pH of "unknown" household liquids and guess what each was (see the picture below). This activity helped reinforce our conversations about chemistry and the scientific method.
After lunch, we learned about the environment and systems. We hit the road for some field work! Your navigators used maps and compasses to guide us to our field site, and safety specialists, data loggers, and samplers put on their gear and ensured field work went smoothly. We collected some baseline measurements and made an assessment about overall site health. Today, our site was healthy and in good condition! We can only hope that our site stays this healthy throughout the week…
If you're looking for some dinner conversation, see if your scientist can tell you about a system of their choice and describe its components (boundaries, elements, inputs, outputs, and interactions). Then see if they can tell you how the system might respond if one component were to change! If your student is still curious, here's the link to a Bill Nye video that helps explain ecosystems and biodiversity.
Miss Jessica and Miss Emily
Acid/Base Chemistry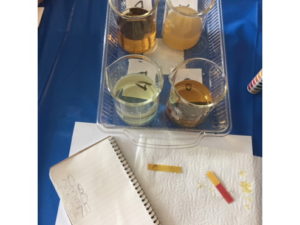 Obtaining Our Samples