Summer SAVY 2018: Session 4, Day 5 – Mysterious World in Writing (Rising 5th/6th)
Dear Parents:
Thank you for a wonderful week of mystery-writing at SAVY! It was an honor and pleasure to work with your students this week, and I truly hope they continue to take all the literary devices and techniques we've worked on throughout the work and apply them to their future writing + reading practices!
Much of our day was spent preparing for the Open House. We began the day at the Computer Lab, where students had the opportunity to finish typing their short mystery excerpts, and we briefly discussed receiving editorial manuscripts in standard font(!) as editors. We then transitioned into the classroom, where we discussed Open House structure & procedures, and Introductions. Students were asked to create brief introductions to their work that summarized their mystery projects and plots, before diving into reading their excerpts out loud. Students were also encouraged to think about being Dynamic Readers — what it means to read in a vibrant, exciting, engaging manner; how to project; and tactics/strategies to deal with stage fright. We practiced reading like engaging authors! We then had a practice simulation of the Open House author reading itself, where we heard our peers read their work out loud, and practiced answering brief Q&A questions about each other's work as readers and as authors. Students had a chance to complete Concept Maps and Classroom Evaluations. We had a short Book Raffle where students each got to take home one copy of a supplementary text from this week (in addition to The Mousetrap). And lastly, we prepared the room for the Open House!
To encourage students to keep mystery-delving into the future, I recommend readings by contemporary authors such as Cornelia Funke (Inkheart, The Thief Lord), the literary magazine Cricket (which contains all sorts of riddles, fiction, poetry, nonfiction, and folklore), and even exploring classical poets such as Emily Dickinson and Edgar Allen Poe. What sorts of language can we generate as suspenseful or mysterious? How can we think about syntax and sound play revolving around mystery? How can we actively build deductive reasoning into our skills as readers — AND as writers?
Thank you so much for such an engaging and wonderful week. I truly appreciate the opportunity to work with all of your students, and I wish you all fruitful and beautiful summers and school years ahead.
All best,
Miss Carlina
Getting Ready For Open House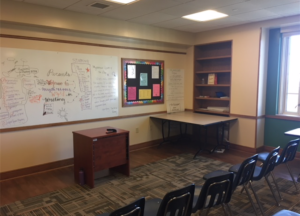 Reading Our Stories