Fall SAVY 2017, Day 3- Disease Detectives: How Scientists Prevent Big Problems (3rd/4th)
I can't believe we're half-way done through the program already! This week, we changed gears and discussed Obesity as a chronic disease. It was a bit of a change from the previous classes,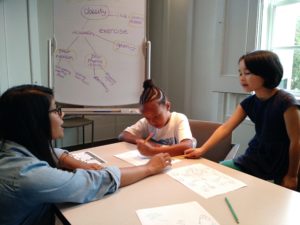 since we focused on infectious diseases and how they're caused by infectious agents. Our discussion on obesity was more systematic. We talked about factors that affect one's health and general well-being (such as physical activity and nutrition, and the built environment). We also talked about how not everyone always has access to good nutrition or opportunities for physical activity because of where they live.
We attempted to take a mini field trip outside to discuss the built environment, but the weather was not on our side. The kids were asked to come up with ways to convince someone to change their health behavior after learning the steps of change. We ended the class with a group activity on health policy and how different levels of governing bodies (whether it be actual government, or even a school or office building) could affect change over the people that they 'govern'.