Mentor Immersion – Fall 2021 Applications Now Available!
Are you looking for an academically accelerated learning opportunity for an a learner in your life? Programs for Talented Youth is now accepting applications for our virtual Mentor Immersion Program!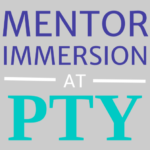 Mentor Immersion: A Virtual Research Experience
PTY's Mentor Immersion program is a unique experience offering in-depth exposure in an academic field and the potential for independent research or a culminating product to be created with expert feedback. Approximately 8 students are paired with a mentor and an additional teaching assistant/peer guide. Through this experience students are able to deepen their understanding in a field of study while making new friends with high ability peers and conducting research or creating a project similar to practicing professionals. Each mentorship meets synchronously for two hours a week for the length of the program. Typically, mentorship meeting times are in the evenings or weekends. Students complete asynchronous work to further their knowledge. The times of the meetings vary by mentorship and will be posted with the mentorship description.
The Fall 2021 Cohort of Mentor Immersion program runs August 16, 2021 to January 30, 2022.
Applications for Mentor Immersion sessions are currently being accepted. Visit the Mentor Immersion Courses page for additional information about the application process. Apply before June 30 to be considered in the first round of admissions. Use the links below to learn more about Mentor Immersion.
Programs for Talented Youth provides academically advanced learners the opportunity to take accelerated coursework in a creative, supportive, and rigorous environment. Our fast-paced and engaging courses are taught by Vanderbilt faculty, scholars, and content experts and are specially designed for academically advanced and motivated students.
Please direct any questions about Mentor Immersion to pty.peabody@vanderbilt.edu.