Vanderbilt Gifted Education Institute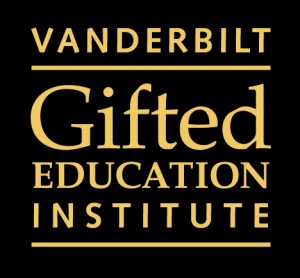 Vanderbilt Programs for Talented Youth is pleased to offer professional development opportunities designed to help educators better serve and support high-ability students. Known collectively as the Vanderbilt Gifted Education Institute, we endeavor to develop those who work with them throughout the academic year and summer. 
2019-2020 Academic Year Conferences & Trainings
Differentiation for Gifted Learners
Dates: March 4 and 5, 2019
Cost: $279
Are you interested in learning more about curriculum resources and instructional strategies that support differentiation for the gifted students in your classroom and school? This two-day conference, designed with the classroom teacher and building administrator in mind, focuses on how to differentiate instruction for the gifted and academically advanced learner.  Sessions are practical and focused on developing higher level questions and products, applying easy-to-use models and strategies to promote depth and complexity, implementing curriculum units that promote conceptual understanding, and using evidence-supported frameworks that develop talent in a variety of content disciplines.
Highlights include:
Keynote Speaker Dr. Frank Worrell of UC Berkeley will discuss barriers and supports for identifying and developing talent and expertise.
Keynote Speaker Dr. Del Siegle of the University of Connecticut will discuss how to infuse technology into independent study activities and discuss how underachievement affects student performance and what we can do about it.
Breakout sessions focusing on new Affective Jacob's Ladder curriculum that combines social-emotional needs with content standards, and Vanderbilt Programs for Talented Youth's new curriculum units and models in writing, science, social studies, and ELA
Hands-on sessions led by curriculum developers, Vanderbilt faculty and staff, and other local and nationally known experts.
Click here for a sample of session descriptions.
Questions? Contact Dr. Eric Fecht (eric.l.fecht@vanderbilt.edu; 615-322-5657).
Click here to register via our online system.
Click here to register via paper form.
Best Practices in Identifying and Teaching the Gifted: 
The Tennessee Employment Standard
Dates: June 17th – 28th, 2019
Cost: $1275
During the two-week experience participants will explore the nature and needs of academically gifted learners, including those who come from low income and culturally diverse backgrounds. Workshop sessions will take place Monday through Friday during the last two weeks in June. Each meeting will encompass meaningful learning experiences, lectures from national experts in gifted education, and opportunities to interact with other education professionals. Participants will practice methods for differentiating curriculum and will discuss strategies for meeting the needs of gifted students. Click here for more information about The Tennessee Employment Standard, including specific meeting dates.
For additional information, please contact Eric Fecht (eric.l.fecht@vanderbilt.edu or 615.322.5657).
On-Site Professional Development Opportunities
PTY's Gifted Education Institute is pleased to offer a variety of professional development sessions to school staff or parent groups in an effort to provide additional support and information about the unique learning needs of high-ability students. PTY will work with school leaders or parent groups to design a session that addresses the specific learning needs and interests of the audience.