Vanderbilt Gifted Education Institute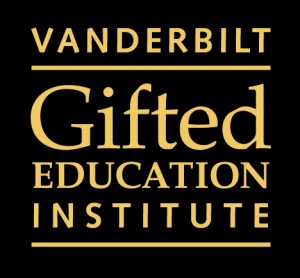 Vanderbilt Programs for Talented Youth is pleased to offer professional development opportunities designed to help educators better serve and support high-ability students. Known collectively as the Vanderbilt Gifted Education Institute, we endeavor to develop those who work with them throughout the academic year and summer. 
2019 Summer Opportunities
Best Practices in Identifying and Teaching the Gifted: 
The Tennessee Employment Standard
Dates: June 17th – 28th, 2019
Cost: $1275
During the two-week experience participants will explore the nature and needs of academically gifted learners, including those who come from low income and culturally diverse backgrounds. Workshop sessions will take place Monday through Friday during the last two weeks in June. Each meeting will encompass meaningful learning experiences, lectures from national experts in gifted education, and opportunities to interact with other education professionals. Participants will practice methods for differentiating curriculum and will discuss strategies for meeting the needs of gifted students.
Click here for more information about The Tennessee Employment Standard or to register.
For additional information, please contact Eric Fecht (eric.l.fecht@vanderbilt.edu or 615.322.5657).
On-Site Professional Development Opportunities
PTY's Gifted Education Institute is pleased to offer a variety of professional development sessions to school staff or parent groups in an effort to provide additional support and information about the unique learning needs of high-ability students. PTY will work with school leaders or parent groups to design a session that addresses the specific learning needs and interests of the audience.