Teaching for our Programs
Summer Student Programs

Summer Academy at Vanderbilt for the Young — Summer SAVY is a day program for students going into grades 1-7. Different course options are offered to all students in June and July. Each course is designed to be a week long so that students may delve deep into the content. Students sign up for one or more weeks depending on their schedules and interests. Classes last from 8:45 AM – 3:45PM on weekdays. Instructors may teach one or multiple weeks. If an instructor teaches multiple weeks, the instructor will teach different classes and/or different
grade levels. Learn more about SAVY here.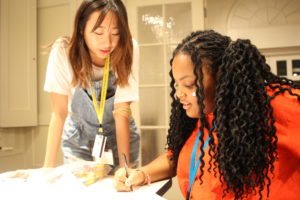 Vanderbilt Summer Academy — VSA is a residential program for students going into grades 7-12. Sessions are divided by grade. Rising 7-8th graders stay for one week in June, followed by the 9-10th graders for the next two weeks. Our oldest students (grades 11-12) stay for three weeks in July. Classes meet weekdays from about 8:45AM – 3:45PM. Our second and third sessions also require a 10:00AM – 12:00PM Saturday commitment. Learn more about VSA here.
PTY Classes
PTY offers classes to gifted students in grades K-12. Our students typically rank in the 95th percentile or higher on a nationally normed ability or achievement assessment, out-of-level assessment, or college entrance exam. Thus our courses are…
Accelerated: Students take one course while they are with us, learning in depth material at a faster pace and more advanced level (about 3 grades) than in a typical classroom.
Collegial: Instructors serve the role of scholar-mentor to a class of about 16 gifted students, teaching not only the material they need to know, but the methods, habits, and practices of a scholar in that field.
Focused: Courses strive for depth of content rather than a broad outline of information.
Unique: Courses should not be like what students could otherwise take at school.
Proposing a Class for PTY
The online submission form for 2020 courses is available. All potential instructors should apply using the online submission form.
Propose a 2020 Course
View 2019 Course Descriptions: VSA | SAVY
For each course you would like to teach, prepare a title and a 50-75 word description. You may propose up to three courses, but only one course is required. You will need to upload a PDF of a cover letter and your vitae to the submission form.
It is preferred that applicants have, or be working toward, a terminal degree (e.g. Ph.D.). Compensation is competitive based on qualifications and experience. Submissions will be reviewed on a rolling basis. Please send any questions to Sarah DeLisle and Mark Shivers. For non-academic VSA seasonal positions, please click here for more information.