Home » For Parents » Parent Support Groups
Parent Support Groups
Raising gifted children can be exciting, rewarding, … and overwhelming. Their social and emotional needs and cognitive timetables are often wildly out of synch with their peers. It can be difficult to find other parents who understand the particular joys and frustrations posed by these developmental differences.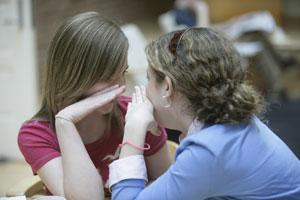 Parent support groups offer parents the opportunity to connect with other parents of gifted children and learn about the following topics:
Identification
Motivation
Teaching Self-Management
Intensity and Perfectionism
Depression
Communication of Feelings
Peer Relationships
Family Relationships
Establishing Discipline
Vanderbilt Programs for Talented Youth offers support group opportunities throughout the year. The meetings are held on  Vanderbilt's campus.  The groups are facilitated by experienced counselors and psychologists with extensive training and knowledge of the needs of gifted children.
Spring 2016 Parent Group

The spring session of our parent group meets for three Saturdays on Vanderbilt's Peabody campus. The cost for participation is $40 for one parent/guardian and $20 for each for each additional parent/guardian. The spring session Saturdays include February 6, February 13, and February 20 from 9:15AM to 11:30AM. Space is limited, so apply early!
The spring parent group sessions will be facilitated by Deb Finch, M.Ed. Ms. Finch is a professional school counselor and an adjunct professor at Vanderbilt and Belmont. Parenting Gifted Children, edited by the National Association for Gifted Children (NAGC), will be used as a supportive reference during this session. The book is included with the registration fee.

Spring 2016 SAVY Chats
In addition to the four Saturdays included in registration, parent group participants are provided the opportunity to attend two additional, complimentary SAVY Chats on January 30 and February 27 from 9:15AM to 11:00AM.
January 30- Advocacy from the Inside Out
The idea of 'advocacy' is often experienced by 'standing up and stepping out for something significant.' At this SAVY Chat, attendees will be introduced to advocacy for supporting gifted children from a new stance: looking within. In this session, Deb Finch, M.Ed., will focus on ways to tap into student's strengths in order to help young people develop their own advocacy voice. Ms. Finch is a professional school counselor and an adjunct professor at Vanderbilt and Belmont. She is also the facilitator of Vanderbilt Programs for Talented Youth's parent support group each fall and spring. 
February 27- Mindsets Matter
Why do some gifted students tackle challenges with excitement while others feel threatened by challenges and avoid them? Why do some students think effort breeds success while others think that putting forth effort is a sign of inability? Different belief systems about learning can lead to different behaviors and achievement outcomes, and in order for gifted children to continue to grow and be resilient in the face of challenges they must have the motivation and mindset to do so. Dr. Emily Mofield, Lead Gifted Consulting Teacher for Sumner County Schools, will provide an overview of implicit learning theories, made popular by Dr. Carol Dweck's research on "growth mindset" and share findings of her own research regarding patterns of perfectionism and mindset among gifted learners.  Parents will learn how to nurture long-term success in their children by learning about growth mindset mechanisms and the environments that create it. Dr. Mofield has published several articles about the socio-affective needs of gifted students and has most recently co-authored four PTY advanced curriculum units with PTY's Executive Director, Dr. Tamra Stambaugh. Dr. Mofield and Dr. Stambaugh have won two NAGC curriculum awards for their work.
---