Home » For Parents » Parent Support Groups
Parent Support Groups
Raising gifted children can be exciting, rewarding, … and overwhelming. Their social and emotional needs and cognitive timetables are often wildly out of synch with their peers. It can be difficult to find other parents who understand the particular joys and frustrations posed by these developmental differences.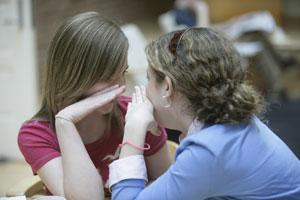 Parent support groups offer parents the opportunity to connect with other parents of gifted children and learn about the following topics:
Identification
Motivation
Teaching Self-Management
Intensity and Perfectionism
Depression
Communication of Feelings
Peer Relationships
Family Relationships
Establishing Discipline
Vanderbilt Programs for Talented Youth offers support group opportunities throughout the year. The meetings are held on  Vanderbilt's campus.  The groups are facilitated by experienced counselors and psychologists with extensive training and knowledge of the needs of gifted children.
Spring 2017 Parent Group

The spring session of our parent group meets for four Saturdays on Vanderbilt's Peabody campus. The cost for participation is $50 for one parent/guardian and $25 for each for each additional parent/guardian. The spring session Saturdays include February 4, February 11, February 18, and February 25 from 9:15AM to 11:30AM. Space is limited, so apply early!
The spring parent group sessions will be facilitated by Deb Finch, M.Ed. Ms. Finch is a professional school counselor and an adjunct professor at Vanderbilt and Belmont. Parenting Gifted Children, edited by the National Association for Gifted Children (NAGC), will be used as a supportive reference during this session. The book is included with the registration fee.

Spring 2017 SAVY Chats
In addition to the four Saturdays included in registration, parent group participants are provided the opportunity to attend two additional, complimentary SAVY Chats on January 28 and March 4.
---